In this article in FOLIO Magazine

, Aron Caruso argues that "It's not about print versus digital. It's a balance of both."
"Every industry is experiencing a digital transformation. For some, the pandemic has accelerated this transformation. Others, like retail, travel and QSR, are trying to quickly adapt to the new criteria of our on-demand world. Consumers are permanently changing their online consumption habits, and in some cases embracing those of years past.
Previously, digital transformation was more of an evolution. It's evident now that retail chains that embraced omnichannel strategies, like Walmart and Costco, may fare better in our current crisis. And in many cases, retailers that were pureplay e-commerce businesses but had begun to set up stores in the brick and mortar world are back to reaching their customers where they are—at home.
The publishing world may be following a similar evolutionary path. Over the past two decades, countless publishers shifted their magazines to online-only models. If they maintained print versions, publication schedules dropped from weekly to monthly or from monthly to quarterly. Some publications shuttered entirely. But then, a funny thing happened: younger readers found that they liked the lean-in experience of a magazine. They liked reading stories without autoplay videos and full-screen takeovers interrupting their immersive experience.

Unplug and pick up a book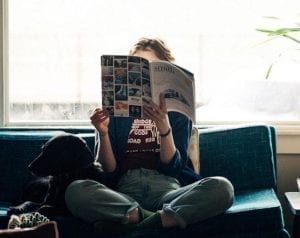 For Gen Z, the first generation to fully grow up in a digital world, to develop a fondness for print was an unexpected plot twist. However, there are a few good, and understandable, reasons. The first is that they are actually looking for downtime. Gen Z-ers and Millennials don't want to be connected every minute of the day. Instead, they want real-life experiences and genuine connection. They love offline activities, including, dining out with friends, travel and camping. They also love to read. In fact, they tend to read more than older generations do, and even more than those generations did at the same age. And while you might assume that they prefer to read on screens, you'd be wrong. An American University study of 300 university students found that 92% of them prefer old-fashioned, bound, paper books over e-reader alternatives…"
Click here if you are interested in reading the entire article.
Tom is originally from Brooklyn N.Y but has spent his entire professional career in South Carolina, most recently as Head of Reference Services at the College of Charleston. As part of the Against the Grain and Charleston Conference team, he serves as the associate editor of the print ATG as well as the co-editor of the webpage. Tom's conference duties include coordinating the Penthouse Suite interviews as well as the conference poster sessions.
He received his MLS from the University of Buffalo, SUNY and a second master's in public administration from the College of Charleston and the Univ. of South Carolina. His wife Carol and he live in downtown Charleston and she is an artist and a tour guide offering historic walking tours of the city.